Access to all 15 video training videos
Plus two eBook on how to defeat Depression
Join other Christian who are battling this oppression
Discussions and questions about how to overcome
Online ministry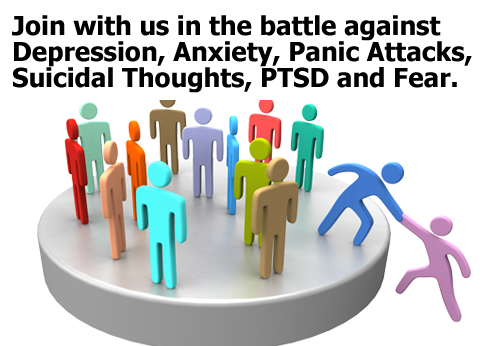 Connect with other Christians around the world
Help others to come out of this oppression
Make new friends around the world
Online call-in forums
Be trained on how to help set others free
From the Beginning of our ministry (more than 10 years ago) our goal has been to build, train and develop a team around the would who would be trained to minister freedom to people in order to push back the kingdom of darkness (Depression, Anxiety, Fear, PTSD, Panic Attacks and Suicidal thoughts, all of these oppression's are growing stronger all over the world.
We want to glorify Jesus by getting people free from these oppression's and transforming them out of the kingdom of darkness, He is still setting the captives free, come join us….
Where there is depression, there is usually rejection, the need for love, acceptance and self-worth is one of the strongest needs of our nature.
The spirit of rejection brings:
Fears, phobias, anxiety and self pity, want to blame others and be easily offended……..
It can start at an early age and really cause you trouble
And when you get a revelation of
"The Spirit of Adoption"
Romans 8:15 Gal 4:6
the need for Love, acceptance, purpose and self worth will be totally met ……
This may be difficult to believe and achieve, but it is absolutely true.
Depression from rejection attaches itself to that part of our nature which desires love and acceptance and the need for self-worth. For a Christian to be free from Depression and all rejection can be be replaced with Peace and Joy.
The world can not solve a spiritual problem like overcoming a spirit of rejection. To solve a spiritual problem:
You will need to identify what the spiritual issue is and how it is affecting your behavior
Need for acceptance
Need to feel loved
Need not to be alone
Need to be in the in-crowd
Need to be listened too
Will keep talking and talking
Need for significance
Condemnation
Not Worthy
Guilt, Shame of past
Looking for attention, self worth, acceptance, do these methods work, did they work for you ????
The world can not solve a spiritual problem like overcoming a spirit of rejection.
Author: Pastor Pat Buckley
Published on: May 4, 2016 @ 21:24