Christian help for Depression, free teaching with video's for Christians tormented by depression, anxiety, panic attacks and fear.
Access to all 15 video training videos
Plus two eBook on how to defeat Depression
Join other Christian who are battling this oppression
Discussions and questions about how to overcome
Online ministry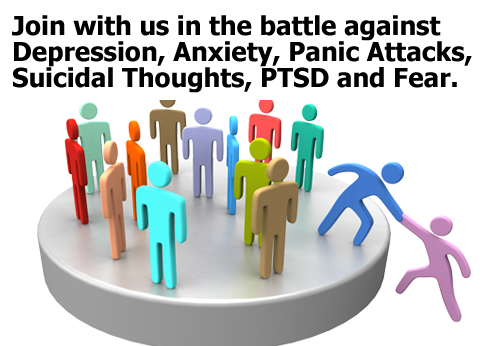 Connect with other Christians around the world
Help others to come out of this oppression
Make new friends around the world
Online call-in forums
Be trained on how to help set others free
From the Beginning of our ministry (more than 10 years ago) our goal has been to build, train and develop a team around the would who would be trained to minister freedom to people in order to push back the kingdom of darkness (Depression, Anxiety, Fear, PTSD, Panic Attacks and Suicidal thoughts, all of these oppression's are growing stronger all over the world.
We want to glorify Jesus by getting people free from these oppression's and transforming them out of the kingdom of darkness, He is still setting the captives free, come join us….
The words of Jesus can bring Hope and replace Hopelessness.
We have ministered to Christians with Depression, PTSD, Panic attacks, Anxiety, and Suicidal Thoughts, we have helped them overcome and be completely free from these oppression's.
I have come that you might have abundand Life ….John 10:10
I have come to set the captives free ….Luke 4:18
The Truth will set you free ….John 8:32
I have Overcome the world, in me you will also..John 16:33
You have been set free, finished work…Col
1Co 2:14 But the natural man receiveth not the things of the Spirit of God: for they are foolishness unto him: neither can he know them, because they are spiritually discerned. 1:13
Col 1:9 Spiritual Understanding, essential, without this
– makes hope difficult.
Prov 13:12 Hope deferred makes the heart sick.
Prov 10:28 Hope is gladness to the righteous,hope first,
Finished work guarantees victory.
Proverbs 23:7 KJV – For as he thinketh in his heart, so is he…
Proverbs 3:5 Our Understand, part of the problem,
let the power of the Word work.
Hosia 4:6 My people suffer for lack on knowledge.
Eph 6:12 For we wrestle not against flesh and blood, but against principalities, against powers, against the rulers of the darkness of this world, against spiritual wickedness in high places.
John 10:10 — Steal, Kill, Destroy, relate this to yourself.
John 8:32 —-Truth set you free, what Truth – the Word
John 8:44 —- Lies will keep you in bondage
John 8:36 —–Who the Son set free is free indeed, He will – absolutely
Exo 14:15 And the LORD said unto Moses, Wherefore criest thou unto me? speak unto the children of Israel, that they go forward:
We all want God to take this away, but, our Father wants us to believe what His Son has done for us, and trust in the Finished work of Jesus……….The just shall live by Faith.
The victory of the finished work of Jesus, and Overcome through what has already been done, and not ask heaven for things that have been done through the finished work………
James 4:7 Submit to God, resist the devil, and they will flee.
James 4:7 Submit to God, Resist enemy, and he will flee——don't do what the oppressors want you to do, do what they don't want you to do.
Luke 10:19 —You have all power over your oppressors, they will obey, what you need is courage and persistance.
James 2:20 —Faith without correspondent action is dead.
Phil 4:13 ——–You can do all things, never I can't, when you loose a battle, pick yourself up, and go again, you are quaranteed Victory, if you do not quit…….
Author: Pastor Pat Buckley
Published:Aug 10, 2018 @ 17:33