Access to all 15 video training videos
Plus two eBook on how to defeat Depression
Join other Christian who are battling this oppression
Discussions and questions about how to overcome
Online ministry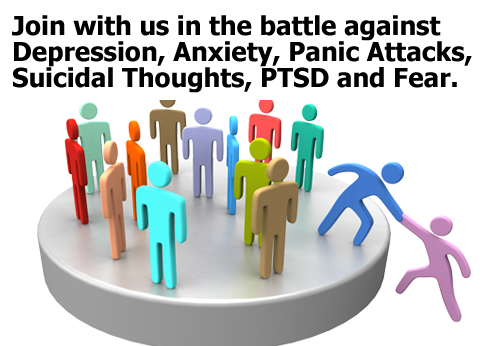 Connect with other Christians around the world
Help others to come out of this oppression
Make new friends around the world
Online call-in forums
Be trained on how to help set others free
From the Beginning of our ministry (more than 10 years ago) our goal has been to build, train and develop a team around the would who would be trained to minister freedom to people in order to push back the kingdom of darkness (Depression, Anxiety, Fear, PTSD, Panic Attacks and Suicidal thoughts, all of these oppression's are growing stronger all over the world.
We want to glorify Jesus by getting people free from these oppression's and transforming them out of the kingdom of darkness, He is still setting the captives free, come join us….
Most people do not realize the spiritual consequences of a Christian saying I Can't. There are spiritual consequences, and it is a big problem, we are speaking words that are in complete contradiction to the Word of God.
Know this, your enemy really loves this, when a Christian thinks and then speaks words that are in opposition to what God has spoken.
By speaking these negative words we give power to the enemy from a biblical principle, believe in your heart and speak with your mouth Jesus said you will have whatever you say. Mark 11;23 (spiritual principle).
God has spoken  …. And our response is ….Yes Sir, Thank you Jesus
I can do all things through Christ who gives me strength  — Phil 4:13
Never ever say, I can't, repent,  and then say, Thank you Jesus Yes, I can, I can win this battle against this depression, anxiety, Panic Attack, PTSD, Fear etc..
If God says, I can do all things things, then I can and I will, do all things, if God says that He has given me the victory through our Lord Jesus Christ. 1 Cor 15:57, then I will have the victory of this oppression, it may take some time, it will be difficult, feelings will not change for a while, but I am guaranteed victory through the finished work of Jesus.
Winning this battle against this kind of thinking from the oppression, can become a major step in winning the WAR against the oppression.
We need to build upon winning the small battles, and moving on to the bigger battles.
Getting past "I Can't" can and usually is a huge breakthrough against the stronghold in our minds of the lie, (over many years) of "I Can't".
It is wonderful to experience, that I now know that I can and I will win this war against this oppression, and after a while the feelings will also change, based on the guarantee of victory from the finished work of Jesus.
Never again, will I utter "I Can't" never never, is this difficult – yes,  I CAN
Author: Pastor Pat Buckley
Published on: Feb 9, 2016 @ 16:28