Access to all 15 video training videos
Plus two eBook on how to defeat Depression
Join other Christian who are battling this oppression
Discussions and questions about how to overcome
Online ministry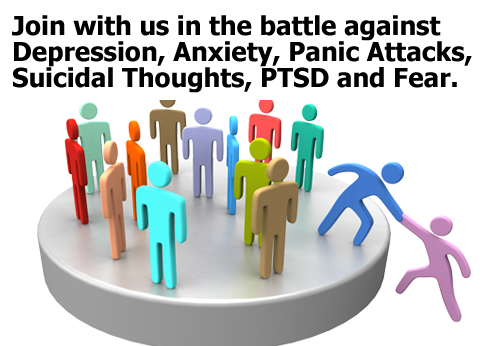 Connect with other Christians around the world
Help others to come out of this oppression
Make new friends around the world
Online call-in forums
Be trained on how to help set others free
From the Beginning of our ministry (more than 10 years ago) our goal has been to build, train and develop a team around the would who would be trained to minister freedom to people in order to push back the kingdom of darkness (Depression, Anxiety, Fear, PTSD, Panic Attacks and Suicidal thoughts, all of these oppression's are growing stronger all over the world.
We want to glorify Jesus by getting people free from these oppression's and transforming them out of the kingdom of darkness, He is still setting the captives free, come join us….
The fear of death mentioned in the bible is the source of all fear, and symptoms of anxiety, panic attacks, such as shortness of breath, heart pounding, body shaking, feelings of going crazy, etc. etc.,are related to this fear.
Fear weakens our immune system and can cause cardiovascular damage, gastrointestinal problems such as ulcers and irritable bowel syndrome. Stress biggest cause of Illness….
It impacts our thinking and decision-making in negative ways, leaving us susceptible to intense emotions and impulsive reactions, leave us unable to act rationally sometimes.
Consequences of long-term fear include fatigue, depression, and PSTD.
Shortness of breath, Chest pressure or pain, A feeling of overwhelming fear, Feeling of going crazy or losing control, Feeling you are in grave danger, Feeling you might pass out, A surge of doom and gloom, An urgency to escape, Dizziness, Palpitations, Trembling, Sweating, Panic Attacks, Turning pale, Burning skin, Feeling detached from reality, Weak in the knees, Pulsing in the ear, Burning skin, Stomach upset, nervous stomach, Pins and needles, Hot and cold flushes,  etc, etc, etc…….
Our problem as Christians,  Lean on their own understanding Prov 3:5, instead of the Word.
If you have a fear of death, you are subject to bondage. Heb 2:15 says you're subject to that bondage all your lifetime. So, we need to have the oppression flee from us, so we will not be subject to bondage.
The greatest fear is the fear of death
So you are having a panic attack? (Sometimes in a panic attack the heart starts pounding, it gets worse, fear comes on the person and they have to go to the hospital, or they can't breathe and get short of breath. This is all fear …
You are a Christian, you know Jesus Christ, where would you go? …Right here we find out very quickly if you are really a Christian.
Author: Pastor Pat Buckley
Published on: Jan 12, 2017 @ 18:11