Access to all 15 video training videos
Plus two eBook on how to defeat Depression
Join other Christian who are battling this oppression
Discussions and questions about how to overcome
Online ministry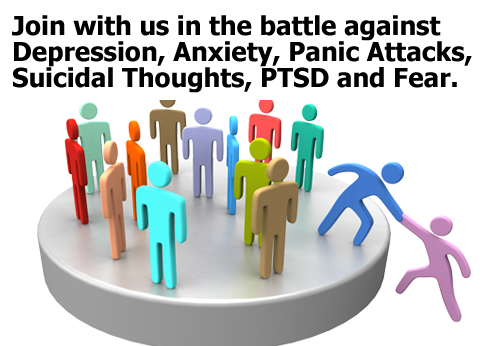 Connect with other Christians around the world
Help others to come out of this oppression
Make new friends around the world
Online call-in forums
Be trained on how to help set others free
From the Beginning of our ministry (more than 10 years ago) our goal has been to build, train and develop a team around the would who would be trained to minister freedom to people in order to push back the kingdom of darkness (Depression, Anxiety, Fear, PTSD, Panic Attacks and Suicidal thoughts, all of these oppression's are growing stronger all over the world.
We want to glorify Jesus by getting people free from these oppression's and transforming them out of the kingdom of darkness, He is still setting the captives free, come join us….
The best prayer for depression is a prayer based on what Jesus has already accomplished from the finished work of the cross, and this finished work is a guarantee of freedom to any captive.

This principle must be understood:
The Finished work of Jesus, is a Finished work, it is a guarantee of freedom !!!
To be really submitted, we must believe what has been accomplished in the Finished Work, and what Jesus spoke to us;
I have come that you might have abundant Life ….John 10:10
I have come to set the captives free ….Luke 4:18
The Truth will set you free, Who the Sons set free, is free indeed ….John 8:32-36
I have Overcome the world, in me you will also..John 16:33

You have been delivered out of the kingdom of darkness, finished work…Col 1:13

We need to pray !!! Thank you Jesus, I now trust in your Finished Work, I know that you have delivered me out of the kingdom of darkness !!!!!

This is the guarantee, we have been delivered, this is absolute, we have been !!!!, a guarantee of freedom to any captive…
I now know that you have defeated the enemy for me, and that you have set me free from these things that have kept me captive, you have set me free !!!!! I can now Fight and Win my Freedom…Luke 10:19
We are more than conquerors Rom 8:31, if, we have courage and persistence, and we do not quit.
This knowledge and revelation brings us tremendous HOPE and renews our minds to truth.
Author: Pastor Pat Buckley
Published on: May 2, 2016 @ 16:41